New ways of working? Five daily tips for document security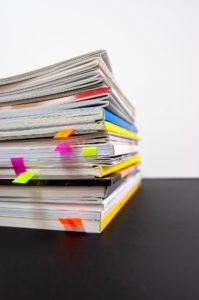 With more people working from home or limiting the time they spend in the office the need for document security is greater than ever. Perhaps you visit the office just once a week and do the rest from your kitchen table. Or maybe your job demands being in the office but you always end up taking work home with you. These are common scenarios that can lead to confidential or sensitive paperwork getting mislaid or left in the wrong place.
Carrying out these 5 quick and simple actions at the end of each day should help to keep your work safe and secure.
It sounds obvious, but keeping your desk/work area tidy really helps. It means you know where everything is ensures important papers do not get bundled up with other general admin.
If you are working from home put files and papers away as soon as you finish work to eliminate the risk from children, pets, visitors or spouses accidently seeing, damaging or losing confidential documents.
Go through your papers daily and put any redundant files into the confidential shredding bin or sack ready for recycling.
Check the printer – it's easy to press print and then forget to collect.
If you are travelling on trains or buses or staying in hotels be mindful about the amount, and type, of papers you take with you.
These tips are obvious but reminding yourself to go through this quick daily checklist takes just a couple of minutes and it could save you a lot of stress. Give it a go!
If you would like to find out more about Yeates Shredding Services visit www.yeates.co.uk/shredding Alternatively call one of our friendly team on 01275 872251.
Yeates is part of the largest shredding network in the country – Simply Shredding  – which has more than 100 branches and we cover the Bristol and Weston-super-Mare areas. For more information visit www.simply-shredding.co.uk