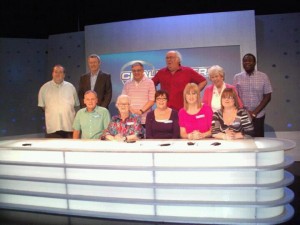 Our Office Manager, Wendie Dunford, will appear on the BBC TV quiz show Eggheads on Friday 12th Oct.
Wendie and her team, The Raglan Orphans, have already recorded their appearance which will be shown at 6pm on BBC Two.
The team got a taste for quiz success whilst playing at The Raglan Arms in Weston-super-Mare. Unfortunately the pub burnt down in 2011 but key quiz members went on to form the new Raglan Orphans team that will appear on the hit show.
Wendie said: "We had an amazing day when we went to film Eggheads but I can't say too much about how we did until the programme is aired as we don't want to spoil anyone's enjoyment!"
Yeates Managing Director, James Griffin, said: "Wendie has been really disciplined and hasn't let slip how her team did so we will all be watching on Friday cheering her on. However, even if she does really well I think she can expect a bit of ribbing from the lads on Monday morning!"