How to select a self storage firm
Not all self storage facilities are the same so you need to make sure that the company and location you choose meets your needs. Here are some things to consider when deciding who to store your goods with.
1. Location
Many people go to the self storage firm nearest to their home or business and although this is a good starting point it is important to consider the other points listed below. Driving a few minutes further to a self storage depot that perfectly meets your requirements might be worth it…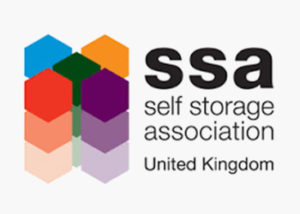 2. Are they a Self Storage Association (SSA) UK Member?
Make sure the company you choose meets SSA industry standards for security and customer protection. All Self Storage Association UK members must meet set criteria that ensure a professional quality standard. For more information visit www.ssauk.com
3. Your room
Make sure that your provider has the right size unit for your needs and that it is big enough for you to easily access your goods (especially if you aim to move things in or out fairly regularly). The unit should have adequate ventilation (it shouldn't smell stale or stuffy) and be solely for your use (check that your goods will not be stored in a communal space along with any other customers' possessions). If you are unsure what size room you need the space calculator on our website can help.
4. Security
Your goods should be stored in a safe and secure environment. As a minimum, there should be CCTV, intruder and fire alarms. Surveillance through an independent security company is a bonus and a facility which is staffed during opening hours adds extra security.
5. Access
Your storage room should be easy to access, particularly if you are going to be using it regularly and upper levels should have a goods lift. It helps if there is plenty of parking on site and there should be suitable loading and unloading areas near to the lift. A quality firm will also provide trolleys and pallet trucks and where possible/by agreement help with moving heavy items.

6. Opening hours
Seems obvious but make sure the storage facility is open at the times when you will need access!
7. Understand the agreement
Make sure you understand the contract that is held between you and your self storage provider. Contracts should ensure you maintain your rights in terms of access to your goods, and outline what happens to your goods if you fail to pay your bill. Also, check how long the contract is for, payment terms and what the notice period is.
8. Insurance
If your goods are worth storing then they are probably worth insuring too. Your self storage company should be able to offer you insurance. Also, ensure they have suitable insurance to cover them in the case they are found to be liable for damage to your goods.
9. Added extras
Little things that make things more convenient can be a real bonus – such as a good quality selection of competitively priced packing materials, locks and sundries. Free wi-fi is also helpful especially for business customers.
10. The team
If you are using your unit regularly or for business purposes, it is important that the staff you meet on a daily basis are friendly and helpful. There may be times when you need an extra pair of hands or just some advice how best to store items and therefore an approachable, 'can do' team makes life much easier!
For more information visit our self-storage service page.