New Year's Resolutions for You and Your Home
Each December, millions of New Year's resolutions are made as people take the plunge to stop bad habits and set new goals. Just think how great it'd be if you could finally clear out and organise those cupboards! With Big Ben's midnight chimes just around the corner, we have hand-picked some tips for you and your home in 2018!
Refresh or redecorate your home
Have you been thinking about giving your home a refresh? If it needs one, you can bring new life to a tired home by simply buying new furnishings, such as cushions, curtains and rugs. For a bigger makeover, you may want to redecorate with splashes of colour, new furniture and different room layouts.
On the other hand, maybe you've been eager to tackle an ever-growing DIY list. Whatever your mission, make 2018 the year to get it done. If space is a problem while your project gets underway, check out our self storage for peace of mind.
Have a clear out and let go of clutter
We're all guilty of keeping hold of 'stuff' a little longer than we should do sometimes. But… 'stuff' soon mounts up and at some point, it's good to let go and get organised.
Maybe you have some broken furniture or appliances stored ready for the tip. Perhaps you're a secret hoarder. Or, you could simply just be too busy to keep on top of mounting paperwork.
Decluttering your home is a great way to make you feel happier and it also wins back more space. If you need support getting back on top of paperwork, we have a professional shredding service that securely destroys confidential documents.
Reorganise or make space with storage solutions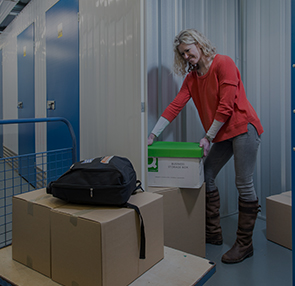 Making space in your home isn't always about de-cluttering and having a clear out. Sometimes, you just don't have enough space. This is more about storage; knowing what items you need to keep and finding the best place to put them.
If your home doesn't have space for all your belongings, start the year with a plan to reorganise each room and make the best use of available space. If you're craving to use a garage, shed, loft or cupboard that's already full to the brim, you already have an opportunity!
If you're struggling to find a home for your items, looking at self storage might be a good investment.
Buy, sell or move home
Whether you want to downsize, upgrade or are simply need of a fresh start, moving home is a perfectly reasonable new year's resolution. As of January, you have the whole year ahead to find your dream home or move in with that special someone.
Changing your living situation is a big deal, but it's completely manageable when planned through. With 100 years experience, we can give you the professional removal support you need in 2018. Whether you need to move from A to B… or A to B to C… we're here to help transport your belongings every time.
Will any of these new year's resolutions right true in 2018? For information on any of Yeates services call 01275 877900 or email info@yeates.co.uk.