Our invaluable house move checklist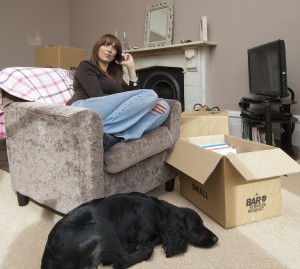 You've found your dream home, sold your own or handed in your notice if you're renting, sorted the finances and now it's just about packing up and moving! But first make sure you are full prepared by compiling a house moving checklist.
Now every move is different. Maybe you're just off round the corner or perhaps you're going a little bit further afield. But wherever you plan to lay your head and make your home the basic tips on how to get there stress-free remain the same. So here's a few ideas from Yeates to help you on your way and don't forget to check the British Association of Movers (BAR) house move checklist too for other helpful hints:
Guess what house removal firm?
Never guess – get a proper estimate from a removal firm who belongs the British Association of Movers (BAR). It goes without saying that Yeates is a member. And membership guarantees that you're dealing with a reputable, insured operator who will help you every step of the way.
Get Organised
This sounds obvious but the more you plan the easier your move will be. We will work with you so that all the details like parking at both ends are sorted – talk to your neighbours old and new to smooth the way and warn of any potential issues. For instance, we may have to block the road or shared driveway whilst loading or unloading takes place.
And don't forget to give us your mobile number for contact on the big day.
Everything must go!
No, it's not the January Sales but now is the perfect time for a bit of a clear out. Why move it if you're not using it? If some of your furniture won't fit where you're going or you're making some changes in the new place then now is the moment to get items you won't need to local auctions or sold on ebay®. And those clothes that you haven't worn for years need to head for the charity shop. De-clutter and enjoy the freedom of having less unwanted stuff.
For no extra cost Yeates will collect unwanted furniture or possessions on the day of your move and take them to the Children's Hospice South West's (CHSW) depot for sale in their charity shops. All customers have to do is simply request donation sacks from us prior to their move. We are delighted to receive donations for CHSW for good quality clothes (adult, children's & baby), coats, shoes, bags, games, toys, books, bric-a-brac and furniture.
Box Clever
Ah, the packing! You've been dreading this but here's the secret. Start early – we're talking weeks here – as it always takes longer than you might think. And the golden rule is small, manageable boxes (tell us how many you need and we'll provide them). Don't overfill them – keep them light. Work a room at a time and then label them clearly so that when you reach the new house you don't end up with dresses in the kitchen and saucepans in the loft!
Pack delicate and breakable items carefully – old newspapers or bubble wrap will protect most things.
But if you're unsure or not up for it then ask us and we'll take care of the job of packing during your house move.
Not known at this address!
Leave a paper trail. Not literally of course. But tell everyone who needs to know where you've gone. Doctor, dentist, banks, telephone and internet providers, credit card companies, insurers, pension companies, TV licence authority and the DVLA for your car registration. The list is long and will vary but it has to be done. Again, start early, as soon as you have a moving date in fact. And don't forget to re-direct your mail. And finally, tell your friends otherwise they won't know where to find you!
We're off!
Finally the day has arrived. You're all packed and everything is in the van. Time for a last farewell. The old place probably holds many memories for you, some good some bad but now it will soon be someone else's home so remember to leave it as you would like to find it, clean and tidy and ready to welcome it's next owners.
We're here!
And now you've all arrived at your new home. Where to start? Let's get the kettle on! Did we mention the kettle? Always the last thing in the van and the first thing out. It's actually a good idea to have a special 'moving day' box with everything in you might need in those first few hours. Think a minimum of kettle, coffee/tea /sugar/milk, mugs, scissors, loo rolls and definitely a few snacks to keep everyone going.
Now it's time to check that everything is as you expected – carpets, light fittings, washing machine or any items that were included in the sale. Any problems get straight on to your estate agent and/or solicitor.
Assuming all is well, then we can start putting everything in the right rooms according to your plan. You did make a plan didn't you? Always make a plan so you and the team know where every item of furniture is going. And all those boxes? If there's space to put them in the right rooms that's great but if not, we'll stack them out of the way in the garage, cupboard or maybe designate one room just for storage. Then you can unpack them at your leisure when it's a bit less hectic.
And so to bed!
So, the moving team have done their job and gone, you've had your takeaway (always a good choice for your first night) and a nice glass of something and it's time to settle into your new home. It's been a long and stressful day so don't try and get everything put away tonight, there's always another day.
Just make sure that everything is secure before you turn in. Remember you're not yet familiar with the house so take extra care that everywhere is secure, not forgetting garages and outbuildings. Check your heating, lights and oven.
And then, sleep tight. You've done it!