Storage options – which is the most practical for you?
Deciding which type of storage best suits your needs sounds easy but there are a few factors that you should think about in order to get the best out of your storage experience. So let's have a look at what's available.
Self Storage
The most obvious option is probably one our self storage units at our Clevedon storage facility. It's a straight-forward cost-effective solution. You hire whatever sized space (from 20 to 230 sq.ft) you need in our secure CCTV monitored and fire protected premises, bring in your boxes or items, fill your unit and you're done. We offer insurance cover for your peace of mind and we can also provide any boxes or packing materials that you may need. Of course, any advice about packing and storage is all part of the service and our facility is fully equipped with everything you may need to assist easy movement of items. Trolleys, forklifts and a large goods lift are available making loading and unloading really easy.
*We currently have an offer on our new self storage units – get your first two weeks free! View more details here!*
Drive-up External Units

But that's not all. What if you need vehicular access so you can bring your car or van right up to your unit? You may find our drive-up external units are the answer. If you want to store items like tools, building materials or anything heavy or awkward they can be taken straight from your own vehicle and into your unit. No fuss, no bother, it's so easy. And whatever style of unit you choose you can access it as many times as you wish, 6 days a week. It's a no-brainer really. Safe secure storage at its best.
Container Storage
If you've got something larger that you need to store, perhaps a whole house full of furniture that you need to store between moves, or maybe you're going abroad for a while or you just need to free up some space then our containerised storage is likely your best option. We bring the container to your premises, our team load up your items and then take the fully loaded container to our secure facility. And your goods are stored for as long as you wish until you need them and then we'll deliver them to wherever you choose. This is the ideal long-term storage solution for bulkier pieces that you don't need for a while.
Mobile Self Storage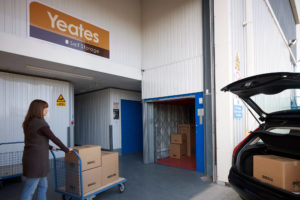 However, not everyone wants to go large. Perhaps you've got a smaller number of items but still need secure storage or maybe you have no way of transporting the goods to storage? Or prefer to pack and load yourself direct from home or office? This is when our mobile self storage units come into play. They provide the ideal solution in these circumstances and come equipped with a generous supply of transit blankets to help with your packing. And of course, we can provide all the necessary packing materials if you need boxes, bubble wrap, packing tape. Everything you need in fact.
We bring the unit to your premises and you load at your own pace. When you're done you just seal the unit and give us a call. We will then collect it and take it to our storage facility in Clevedon where it will be kept securely until you're ready. At our premises, it is subject to the same CCTV and fire protection as all our other methods of storage so you can rest easy knowing that all your valued possessions are safe. And when you're ready just give us a ring and we'll bring your packed unit to you so that you can unload at leisure. You're always in control and working at your own pace. The relaxed way to self-store!
Secure Document Storage

But what if your only problem is that you're buried under paperwork that you don't need right now but have to keep safe? Well, we have the answer to that too. Our secure document facility is just right for you. Just bundle up all those invoices, tax returns and any sensitive documents that you need to hang on to and we'll keep them safe and accessible for as long as you need. So you can forget about them and get on with life in the knowledge that your files will be there when and if you need them.
And just a final thought. When you're done with any documents but they're maybe a bit too sensitive to put in the wheelie bin, you can use our secure document shredding service just to make absolutely certain that they don't fall into the wrong hands! We provide a Certificate of Destruction which guarantees that documents have been securely shredded so you can be sure your documents have been safely destroyed.Just another brilliant service provided by Yeates.
You can view more information about all of our storage solutions here or for further storage news, hints and tips check out the other articles on our blog.
So if you have any questions about any of our storage options, just want to chat about the details of our services or you're ready to get storing then feel free to contact us on 01275 872251 or email us at info@yeates.co.uk