How to store small amounts – self storage lockers!
Do you have small amounts of personal or business items that you wish you could store locally, securely and in a cost-effective way? Is a whole unit just too big to make normal self storage a financially viable option?
If so our new lockers located at our Clevedon self storage facility could be just what you are looking for. The self storage lockers are one cubic metre in size and ideal for storing small amounts. There is no wasted space and, at just £5 a week plus VAT, they are competitively priced yet offer all the usual benefits of the larger self storage unit sizes. This includes high standards of security  – our premises has 24-hour digital CCTV surveillance, monitored intruder alarms and fire protection. If triggered, our system provokes a response from the emergency services as well as an independent security company. In addition, we are open six days a week, all communal areas are clean and well lit, we provide pallets, trolleys and a goods lift as well as plenty of convenient parking.
Our lockers are ideal for students moving back home who need somewhere to leave their belongings during holiday periods or for people who have run out of space for their hobby or crafts paraphernalia. Perhaps you have paperwork which you need to store but also need easy or regular access to? Or small amounts of stock or show/sales material or supplies? In these instances, lockers really can be a great option for either personal or business use.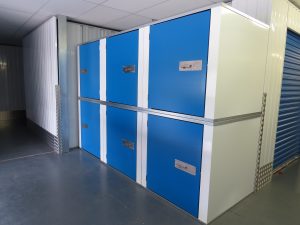 We also offer a free goods receiving service whereby items are delivered to our premises, we take delivery and then put them into your locker for you to collect when you are ready.
As with all our self storage there are no long-term contracts (the minimum term is just one month) and our current special discount (as of July 2016) offers the first two weeks free! This offer currently applies to all our self storage units to mark the opening of our expanded warehouse at our Clevedon premises at Kenn Business Park, BS21 6RS.
Getting organised and clearing space can be very therapeutic and even small amounts with no proper 'home' can become mentally draining to have around. So, if you have run out of room at home or work and have a small volume to store this could be a very cost-effective and mind clearing solution!
For more information or help about our brand new self-storage lockers visit https://www.yeates.co.uk/storage-somerset/self-storage-lockers/ Or call us with any questions on 01275 872251. Alternatively, pop in to see us at our Clevedon location – Unit 10, Windmill Road, Kenn Business Park, BS21 6RS. We will be more than happy to show you around the facilities and discuss your options.
For a further guide to storage tips, please check out this blog.